PLEASE PRAY FOR KIRIL FADEYEV, ONE OF OUR BRILLIANT ARTISTS, TRAPPED IN KIEV BY A BRUTAL WAR
(To see his work, go to his name in the Artist list)
Adonis Art International specialises in mainly contemporary works of art that celebrate the male body in all its strength and beauty. A wide variety of paintings, drawings and photographic prints are for sale. Shipping worldwide is available on all items.
Artists and collectors can sell their own art through the gallery at no cost until a sale is made. Just go to the 'Sell Your Art' page under the 'Other' tab in the menu above and find out more. The service is open to any artist of the male form, including painters and photographers - as well as to collectors of male art who have items they wish to pass on.
Recent new work includes works by Dan Swan and Ivan Bubentkov, as well as favourites by Cornelius McCarthy and Aelred Bartlett, amongst many.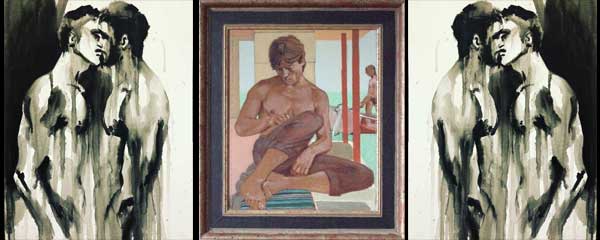 Keep up with the latest developments by subscribing to our newsletter (details at the bottom of the page). Enjoy your visit.